9/15/01

Daddy is now home from the hospital and feeling pretty well. He made great progress with his surgery and we are all very grateful for the outpouring of support our friends and family showed us all in this trying time. Here are some great pics of Daddy -- and we know he'll be back to his old self real soon!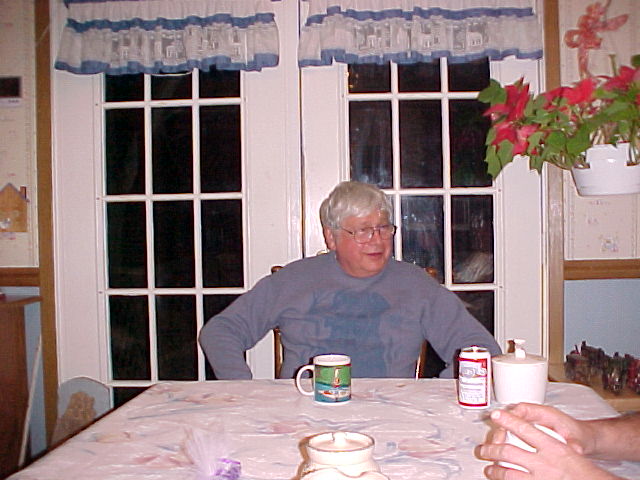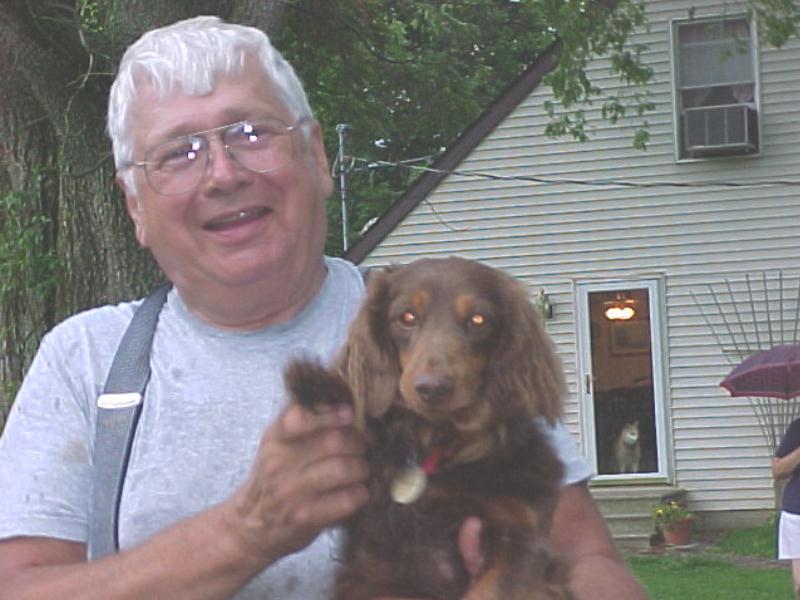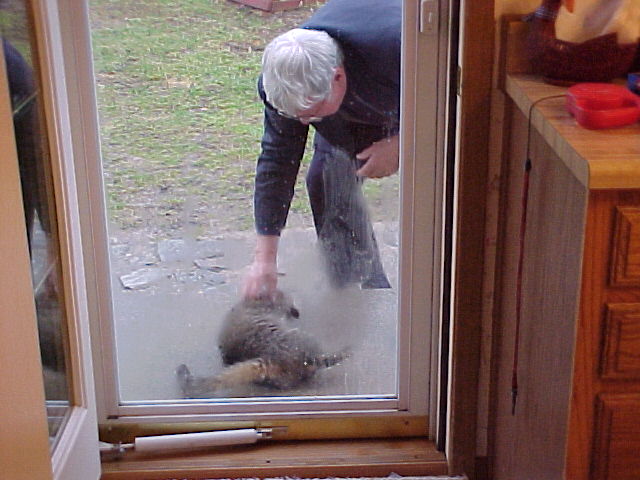 9/12/01 - 9:00 PM

Daddy is doing AMAZINGLY well. Vic and I visited tonight and he was sitting up in a chair with all his tubes and wires gone, eating his supper. He can walk clear down the hall and said he feels that his vitality is coming back. He looks very good and has been enjoying his visitors and had a lot of nice cards and flowers from friends and co-workers. He said that on the 1-10 pain scale with 10 being the worst pain you ever had, he would have to say that his current pain is a 0.5, almost none at all. His leg where they took the very long vein out looks terrible, but he said it is not bothering him and his chest feels okay. He does have one drain coming from that but otherwise, he is free of tubes. He has some back pain from laying around so long and said that's the worst part. He is scheduled to come home on Friday if everything goes well. He and Mother have to attend a cardiac rehab. class.
9/11/01 - 8:00 P.M.

Daddy is doing a great deal better. He was scheduled to be moved from the ICU (Intensive Care Unit) tonight and was alert and coherent. He is very uncomfortable and says it feels like a truck ran over his chest, but he makes good sense. He has a teddy bear they gave him to hold against his chest when he coughs or has to move and he said that helps a lot. He isn't ready to eat solid foods yet, but is getting liquids and was happy to see us when we visited. He asked Vic to use the electric razor and shave him. He is aware of the terrorism in NYC and had a lot to say about this situation.
Monday - 9/10 @ 8:00 P.M.

Daddy had his bypass surgery this morning. It took about 4 hours and started at about 7:45 AM. Dr. Ranjit Rath was the surgeon and he talked to us afterwards. He said that they did 4 bypasses on him but that he had come through quite well. Mother, Diane, Jeff and I were there all day, from about 5:45 AM since we had been told they would take him down to surgery at 6 and we would have to be there that early to see him before hand. As it turned out, the doctor had to go to some hospital meeting and postponed it till 7:45 and they let us stay with him almost till the last minute. We moved with him down to the pre-op area and then into the next area of that room, as well. He was somewhat sedated throughout that time, but he seemed happy we were there. Good Samaritan Hospital was excellent to us. They kept us informed throughout the surgery as they reached different points and would call out to the waiting room and tell us what was happening. At one point, they even told my aunt that we were in the cafeteria, as the people on the phones actually kept track of where we were.

By mid to late afternoon he was settled in an ICU Room and had his own personal nurse who will attend no other patients for the duration of his stay there. He had an amazing amount of tubes and wires everywhere and monitors of pretty much everything and was obviously out of it to a large degree. However, by the second time we went in to see him, he was slightly more awake and trying to communicate with us in spite of his tube in his mouth. Eventually, he started moving his fingers and spelling something and I was able to figure out he was spelling the word "H-U-R-T". I went and told his nurse who was right outside the room and she immediately gave him some more pain medication. By the time we left around 6 PM, he had that tube out of his mouth and could talk some, asked Mother to say the Lord's Prayer and told us how much he loved us all. He was allowed to have a few ice cubes which he said were wonderful.

He still has some of his sense of humor (we told him how good his nurse was treating him and he said "we should adopt her" and was skeptical of the stuffed bear they gave him to hold when he coughs. He said "I heard something about that but thought they were joking with me." He has a strong religious faith and I have every belief that he is in excellent hands and will do really well from here on out.
Saturday - 9/8/01 8:00 PM:

Daddy is now out of Intensive Care for the time being (until his surgery) and is in Room 1172 at Good Samaritan Hospital. He will be there until the bypass surgery which is scheduled for Monday morning at 7:30. His spirits are great and he's enjoying the hospital food since he got NOTHING to eat yesterday except a little Jello and broth. He had a nice visit with his cousins, Vincent and Floyd this afternoon.
9/7/01 - 11:15 PM

Daddy had chest pains Thursday afternoon and Mother took him to Anderson Mercy. They felt at that point that he probably had angina and kept him overnight to do more tests, stress test, etc. today.

Today they did the stress test and some sort of imaging at Anderson Mercy. They determined that he had 90% blockage and instead needed a stint and transferred him to Good Sam by ambulance.

He was supposed to get the stint about 4:30 but they actually didn't get him in to do it till more like 6:30.

Around 7, the surgeon came out and talked to us. It seems he has 3 major coronary arteries that are 90% blocked or more and they need to do a bypass. They are now not doing the stint and put him in the cardiac care unit and will probably do the surgery Monday unless they find they need to do it sooner.

The doctor said he feels certain that he did not have a heart attack of any sort so far but he was in the sort of shape where he probably would have soon. He also said that he did not believe this was really that sudden, he had probably had symptoms which he may not have recognized for some time.

He also said that the fact that he does not smoke and never has and has always been very active and healthy are all good factors and he feels very confident that he will be an excellent candidate for this surgery.